Give your patients protection they can see.
Whether you need waterproof bandages for stitches, treating cuts and scrapes, or for any other purpose, DrySee provides superior protection against water – and the unique moisture indicator lets you and your patients know if the dressing has been compromised and requires replacement.
Product Sheet Download
Waterproof Clear Film
Thanks to the clear film and unique Perimeter Protection Indicator, patients can avoid getting water in their bandage and on their wound while showering and bathing, and quickly change the bandage if it becomes compromised.
Non-Adherent Liquid Bandage
DrySee bandages use a sterile, non-adhering cotton center pad that provides absorption for low exudate wounds and is built with liquid indicating technology.
The center pad will change color upon saturation. When wound exudate saturates the pad, it will turn from a light blue to a darker blue, signaling that it is time to replace the bandage.
An additional layer of protection is offered by the Perimeter Protection Indicator. This perimeter band of liquid indicating material surrounds the outer edges of the bandage and provides a visual moisture alert. It absorbs any liquid that may enter from around the edges of the bandage and changes color prior to that moisture reaching the wound site. Color change is an alert to change the bandage.
DrySee's liquid indicating technology provides a visual moisture alert so doctors and patients alike, can tell if the bandage has been compromised from the exterior or the center pad has become saturated, and remove and replace it accordingly.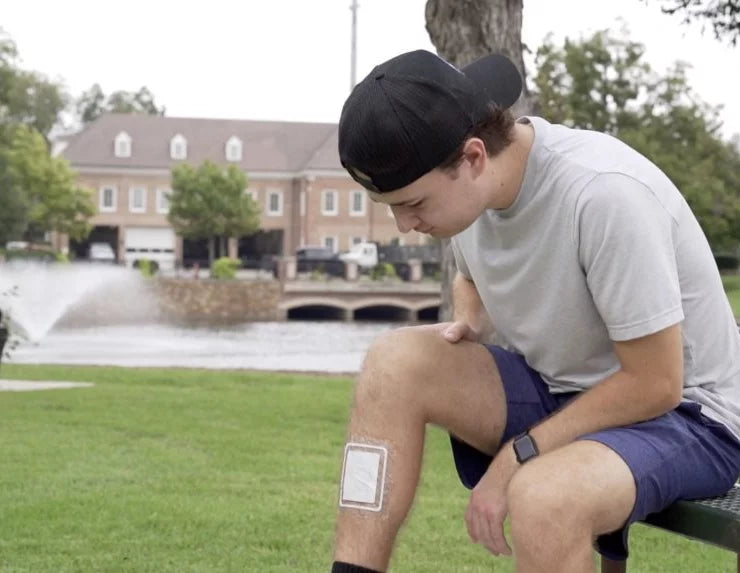 Non-Latex Adhesive
For long-lasting protection and to ensure that patients with latex allergies can use DrySee waterproof bandages for stitches and wounds, this dressing is built with a non-latex adhesive. Combined with the waterproof clear film, this adhesive provides long-lasting wound protection.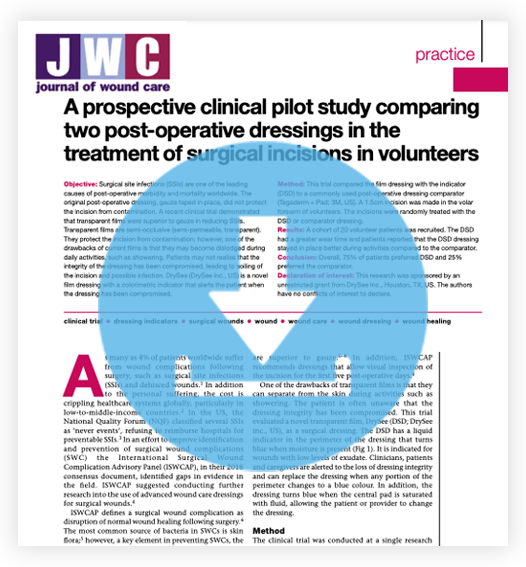 A prospective clinical pilot study comparing two post-operative dressings in the treatment of surgical incisions in volunteers
Read the full article published in the JOURNAL OF WOUND CARE, Septeber 2022.
Read the full article
2x2 Bandage

4x4 Bandage

5x10 Bandage
Instruction for Use
Description

The DrySee™ Bandage with Pad is a waterproof barrier dressing with a wetness indicator. The dressing consists of a non-adherent absorbent cotton pad bonded to a clear film with a non-latex skin adhesive. The film is a barrier to prevent contamination from the outside. An outer absorbent ring intercepts and traps moisture which may intrude, possibly from a shower. When wet, the color of the cotton pad changes from light blue to darker blue.
Instructions for Use

When selecting the appropriate waterproof bandage size, ensure the absorbent pad will fully cover the wound. The adhesive portion of the bandage should adhere only to healthy skin.

Be sure to properly clean and prepare your wound prior to applying the bandage. Once your wound has been prepped for dressing, remove the plastic backing and carefully apply the waterproof adhesive bandage to your wound. Follow application instructions to ensure proper bandage adhesion.

Remember to monitor the liquid intrusion alert built into the bandage for signs the bandage has become wet and needs to be changed. If the indicators turn dark blue, the waterproof bandage should be replaced.
Site Preparation

Proper wound cleaning in preparation for bandaging is imperative as it helps reduce the risk of the wound becoming infected. Taking these preventative measures will help the waterproof bandage adhere to the skin, providing better protection for the wound. Follow the steps below to clean and prepare the wound site for dressing.

• Wash and dry hands before tending to the wound site.

• Clean and prepare site per internal protocol.

• Excess hair should be clipped or shaved to increase adhesion.

• Allow cleaning or prep fluids to dry completely before applying bandage.

• Skin should be dry and free of all lotions and oils.

• Follow application instructions to apply waterproof adhesive bandage.
Application

Correct application of the waterproof adhesive bandage will help ensure the bandage and wound remain dry. Follow the steps below for proper application of the dressing.Follow site preparation instructions prior to applying the dressing.

• Wash and dry hands before applying the dressing.

• Gloves are recommended for application.

• Open the package and remove the sterile dressing.

• Peel and remove the back-paper liner(s).

• Position the dressing over the wound. Make sure the absorbent pad fully covers the wound.

• Press gently to adhere to the skin.

• Remove the paper-frame from the dressing while pressing down on all sides to prevent wrinkles and ensuring firm attachment to the skin.
Site Care

Be sure to monitor the wound site as needed per internal protocol. The waterproof bandage is designed to last up to 4 days. Be sure to check the bandage for signs of becoming wet or dirty. The built-in liquid intrusion alert system will turn dark blue if the dressing becomes wet or saturated and needs to be changed.
Indications

The DrySee™ Bandage with Pad is designed to cover acute wounds such as cuts, abrasions, partial-thickness burns, IV-sites and incisions. It is also designed to cover low-exuding partial-thickness chronic wounds including pressure ulcers, diabetic ulcers or venous ulcers. It is also designed to be worn into a shower as a protective dressing to assist in maintaining wound dryness. This product is not designed, sold or intended for use except as indicated.
Warnings

This dressing is not a replacement for suture or as a primary wound closure method. It is not an alternate to a hemostatic dressing for severe bleeding.
Precautions

• Stop bleeding before application of the waterproof bandage.

• Skin must be dry and free of all lotions and oils for proper adhesion.

• Do not stretch the bandage during application.

• Not for use on infected wounds, except under the supervision of a healthcare professional.
Reimbursement Coding
A6203
Composite dressing sterile pad size 16 sq. in. or less with any size adhesive border each dressing.
A6204
Composite dressing sterile pad size more than 16 sq. in. but less than or equal to 48 sq. in. with any size adhesive border each dressing.
Choosing a selection results in a full page refresh.